EDN Designers Guide (Paypal)
EDN Designers Guide to Electromagnetic Compatibility
Daryl Gerke, PE, and William Kimmel, PE
---
– Now in PDF – Immediate Download

---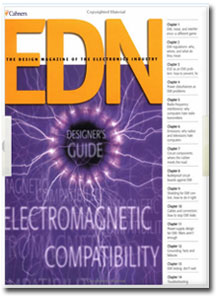 –This guide originally appeared as a supplement to EDN in 1994 and underwent updates in 2000 and 2005. It was originally printed by Cahners (EDN is now part of UBM).
–We acquired the reprint rights and the book is now available from us for $29.00 including S&H for domestic orders.
–This is a nontraditional approach to EMI. You won't find line integrals or partial differential equations or any other involved mathematical expressions. You won't find excruciating details on EMI regulations and testing.
–You will find a practical nuts and bolts approach to EMI, written for the non-EMI expert.
–The fourteen chapters are:
---
Chapter 1
EMI, noise, and interference – a different game
Chapter 2
EMI regulations: why, where, and what do they mean
Chapter 3
ESD as an EMI problem: how to prevent, fix
Chapter 4
Power disturbances as EMI problems
Chapter 5
Radio-frequency interference: why computers hate radio transmitters
Chapter 6
Emissions: why radios and televisions hate computers
Chapter 7
Circuit components: where the rubber meets the road
Chapter 8
Bulletproof circuit boards against EMI
Chapter 9
Shielding for EMI control…how to do it right
Chapter 10
Cables and connectors: how to stop EMI leaks
Chapter 11
Power-supply design for EMI: filters aren't enough
Chapter 12
Grounding: facts and fallacies
Chapter 13
EMI testing: don't wait
Chapter 14
Troubleshooting
Please note – this is a PDF version – available for immediate download.
(If you want the hard copy, it is now $39. Please contact us directly for payment and shipping at 888-EMI-GURU.)
---
REFUND POLICY – If you are not 100% satisfied, just let me know within 30 days for a full and prompt refund. And whatever you decide, you may keep the e-book — that way, you risk nothing. — Thanks, Daryl
---
Preview EDN Designers Guide to Electromagnetic Compatibility Here