EMC in Medical Devices (Amazon)
Electromagnetic Compatibility in Medical Equipment: A Guide for Designers and Installers
William D. Kimmel, PE, & Daryl D. Gerke. PE

---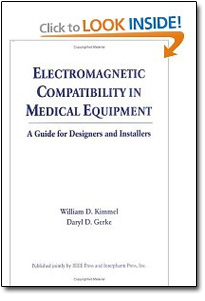 —Electromagnetic Compatibility in Medical Equipment is vital reading for designers, installers, quality assurance professionals, and others involved with the design and operation electronic medical devices and equipment.
–This book provides practical design and installation guidance to address both regulatory issues and the threat of litigation. These EMC concerns impact critical patient healthcare, and cannot be overstated: you must protect yourself.
—Electromagnetic Compatibility in Medical Equipment addresses specific EMC needs of the medical device equipment industry — from Radio Frequency Interference (RFI) to Electrostatic Discharge (ESD), passive components, microshock, cable shielding, and more.
–-Extremely thorough — dozens of examples of problems and solutions, hundreds of resource references, lists of government documents, regulations and standards, tables of scientific material properties, and tables of constants/conversion factors complement and round out the text — making it a unique and comprehensive treatment of the subject.
---
Chapters Include:

Introduction to EMC
EMI Standards for Medical Devices
The Physics of Electromagnetic Interference (EMI)
Components and Circuits
Printed Circuit Board Design
Grounding for EMI Control
Power and Power Filtering
Interconnect and Mounting
Shielding and Shielding Materials
Cables and Connectors
Special EMI Problems in Medical Electronics
System Considerations
---
REFUND POLICY:  If you want a refund, please contact the publisher or Amazon.  I have no control over this book, and no longer even receive royalties.  But I do hope you find the book useful. — Thanks, Daryl
---
To order, contact CRC Press, ISBN 9780935184808.
Or click below to buy through amazone.com